Vacation dates 2020 – 2021
| | |
| --- | --- |
| Autumn break | Monday 12 October – Sunday 18 October 2020 |
| Sinterklaas | Saturday 5 December 2020 |
| Christmas break | Monday 21 December 2020 – Sunday 3 January 2021 |
| Spring break | Monday 22 February – Sunday 28 Februari 2021 |
| Easter | Friday 2 April – Monday 5 April 2021 |
| May Holiday | Sunday 25 April – Sunday 9 mei 2021 |
| Ascention day | Thursday 13 May 2021 |
| June Bank Holiday | Sunday 23 May – Monday 24 May 2021 |
| Summer Vacation | Thursday 1 July –   Tuesday 31 August 2021 |
Vacation Judo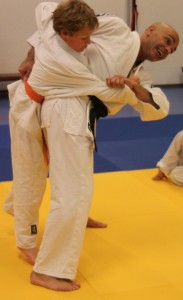 During the school (summer)vacations the normal class schedule does not apply. For those who can't miss judo during the vacation, we offer summer classes on a Wednesday and a Saturday.
The classes are 90 minutes long under the instruction of Master Bas.
More information please contact Bas.
Location
Instituut Schreuder, Van de Veldestraat 10 ( a side street between P.C. Hooftstraat & Paulus Potterstraat/Museumplein) in Amsterdam.
Schema vacation judo 
Wednesday 
15.00 – 16.30 uur, 5 t/m 7 yr.
16.30 – 18.00 uur, 8 t/m 11 yr.
19.00 – 20.30 uur, 12+ and adults
Saturday 
10.00 – 11.30 uur, 5 t/m 7 yr.
11.30 – 13.00 uur, 8 t/m 11 yr.
13.00 – 14.30 uur, 12+ and adults
Members from all of our training locations across Amsterdam are welcome at the summer classes in The Schreuder Institute.
Costs
5,00 Euro per class.
Payment to be made in cash to the judo instructor before the lesson.
Join in, and you are more than welcome to bring a friend along too!