Vacation dates 2022 – 2023
| | |
| --- | --- |
| Autumn break | Monday 17 October – Sunday 23 October 2022 |
| Sinterklaas | Monday 5 December 2022 |
| Christmas break | Friday 23 December 2022 – Sunday 8 January 2023 |
| Spring break | Monday 27 February – Sunday 5 March 2023 |
| Kingsday | Thursday 27 April 2023 |
| Easter | Friday 7 April – Monday 10 April 2023 |
| May Holiday | Sunday 1 May – Sunday 8 May 2023 |
| Ascention day | Thursday 18 May 2023 |
| June Bank Holiday | Sunday 28 May- Monday 29 June 2023 |
| Summer Vacation | Saturday 1 July –   Thursday 31 August 2023 |
Vacation Judo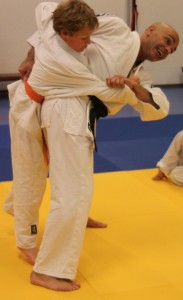 During the school holidays the normal class schedule does not apply. For those who can't miss judo during the holidays, we offer  judoclasses on Wednesdays and Saturdays.
The lessons will take an hour and a half, are full of judo games and are under the instruction of master Bas.
Location
Instituut Schreuder, Van de Veldestraat 10 (side street between P.C. Hooftstraat and Paulus Potterstraat/Museumplein) in Amsterdam.
Schedule holiday judo
Wednesday
15.00 – 16.30, 5 t/m 7 yo
16.30 – 18.00, 8 t/m 11 yo
19.00 – 20.30, 12+ and adults
Saturday
10.00 – 11.30, 5 – 7 yo
11.30 – 13.00, 8 – 11 yo
13:00 – 14:30, 12+ and adults
Participation in holiday judo is free of charge for all members of Judo Academie Amsterdam. Judokas from other judo clubs who want to participate during the holidays pay 5 euro per lesson.
So, whether you train at Bovenland, Lastage, Kinkerbuurt, De Pijp, De Bockesprong, Schreuder, De Ark, Pro Regeschool Hemsterhuis, Jan Hekmanschool  of Sportpark Sloten, all members of Judo Academy Amsterdam are welcome.
Join us if you like and bring all your judo friends along!